Locanda Sant'Agnese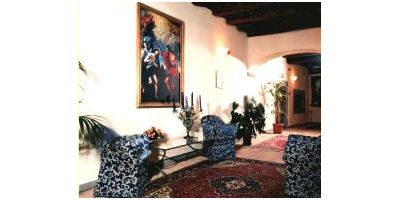 BOOKING FORM - RICHIESTA PRENOTAZIONE
---
Locanda Sant'Agnese: La locanda si trova all'interno del Monastero S.Agnese, edificato nel 1366, situato a pochi passi dalla casa dove visse S.Rosa (patrona di Viterbo) in esilio a Vitorchiano, è stato la dimora di un ricco ordine di suore con la regola di S.Agostino, con l'uso del pastorale alla badessa pro- tempore e del Rocchetto; da ciò le suore di clausura vennero chiamate "Rocchettine".
Le camere sono curate in ogni dettaglio per consentire un soggiorno esclusivo in armonia con l'ambiente circostante. Ogni ambiente possiede una propria individualità grazie alla ricerca curata nei colori e nei componenti dell'arredo che rendono unica ogni stanza.
La locanda dispone di due suites e 16 camere, di cui una per disabili, tutte molto confortevoli ed eleganti, dotate di TV, cassaforte, frigobar e climatizzazione.
Fuori dalle suggestive mura, perfettamente conservate, i nostri ospiti potranno immergersi in un verde secolare per meravigliose passeggiate.
Nella splendida cornice del monastero con la sua atmosfera medievale, coccolati dalla cortesia e dal buon gusto, potrete assaporare la deliziosa cucina dei nostri chefs, i caratteristici piatti tradizionali, accompagnati da ottimi vini D.O.C. selezionati, La nostra cantina comprende circa 250 etichette di vini italiani, può essere visitabile nei caratteristici sotterranei del monastero.
Bar,
Camere,
Giardino/Parco,
Parcheggio privato,
Telefono in camera,
Ristorante,
Bagno con doccia,
Piscina,
Tv Color,
Palestra,
Sauna,
Cassaforte,
Frigo Bar,
Si accetta Carte di Credito,
---
Dove siamo:

---
Locanda Sant'Agnese: Inn is to the inside of the S.Agnese Monastery, built in the 1366, situated to few footsteps from the house where S.Rosa (Saint of Viterbo) lived in exile to Vitorchiano, the abode of a rich order of nuns with the rule of S.Agostino has stayed, with the use of the pastoral to the abbess for-time-king and of the Spool; from that the nuns of seclusion came calls "Rocchettine."
The rooms have taken care of in each detail for allow an exclusive stay in harmony with the surrounding environment.
Each environment possesses an own individuality thank you to the search taken care of in the colors and in the components of the design that make unique each room.
Inn arranges of two suites and 16 rooms, of which a for disabled, all very comforting and elegant, you equip with TV, safe, fridgebar and air conditioning.
Out from the suggestive boundaries, perfectly preserved, our guests will bathe in a secular green for marvelous walks.
In the splendid frame of the monastero with its medieval atmosphere, cuddled from the courtesy and the good taste, you will be able to savour the delicious kitchen of ours chefs, the characteristic traditional plates, accompanied from optimal selected wines D.O.C., our wine cellar comprises approximately 250 Italian wine labels.
Bar,
Rooms,
Garden-Park,
Private Parking,
Phone in room,
Restaurant,
Bathroom with shower,
Swimming-pool,
Tv Color,
Palestra,
Sauna,
Safe,
Minibar,
Credit Card accept,
---
Where we are:

Locanda Sant'Agnese
P.zza S. Agnese, Vitorchiano, VT, Italy