Hotel Le Naiadi Sul Lago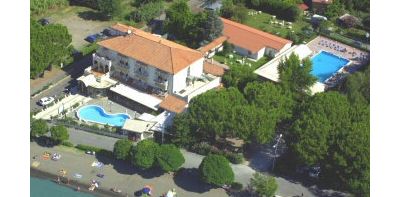 BOOKING FORM - RICHIESTA PRENOTAZIONE
---

Hotel Le Naiadi Sul Lago:

L'Hotel Le Naiadi dispone di un'ampia sala per Banchetti Matrimoniali e Conferenze.
Il Ristorante propone una cucina italiana accuratissima.

Le stanze sono dotate di terrazza panoramica, servizi privati, Tv Color, telefono e Aria condizionata .

Come arrivare: Autosole,uscita Orvieto,prendere provinciale a destra, semaforo a sinistra seguire le indicazioni per Bolsena distanza dall'uscita autostradale Km 26.

Bar,
Camere,
Parcheggio privato,
Telefono in camera,
Ristorante,
Bagno con doccia,
Piscina,
Tennis,
Tv Color,
Si accetta Carte di Credito,
---
Dove siamo:

---

Hotel Le Naiadi Sul Lago:

Hotel Le Naiadi has a large place for Banquets Matrimoniali and Conference.
Hotel Le Naiadi restaurant has an exccellent italian cooking.

The rooms have their own panoramic terrace, private bathroom, color Tv , telephone, climatization unit.

How to reach it: AUTOSOLE , highway exit orvieto right, traffic-light left, follow, the direction to Bolsena: distance from the higway exit about 26km.
Bar,
Rooms,
Private Parking,
Phone in room,
Restaurant,
Bathroom with shower,
Swimming-pool,
Tennis,
Tv Color,
Credit Card accept,
---
Where we are:

Hotel Le Naiadi Sul Lago
Viale Cadorna, 95, Bolsena, VT, Italy