Hotel Colony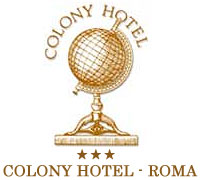 BOOKING FORM - RICHIESTA INFORMAZIONI
---
COLONY HOTEL



Ubicazione: Il Colony Hotel č ubicato in un'area altamente strategica della Capitale, a pochi minuti dal centro storico, vicino alle sedi RAI ed ai principali impianti sportivi della cittą: lo Stadio Olimpico, il Foro Italico e l'Acqua Acetosa.

Č situato tra gli eleganti quartieri Fleming e Vigna Clara, č servito dai mezzi pubblici ed č ben collegato con il resto della cittą.

In automobile si raggiunge in pochi minuti dalla autostrada A1, uscita 6 del G.R.A.


Il fascino degli ambienti in stile coloniale e i comfort della modernitą, uniti all'ospitalitą del personale, fanno del Colony Hotel un luogo accogliente e raffinato per i vostri soggiorni a Roma.


Reception: La Reception č a disposizione per rispondere con la massima professionalitą a ogni vostra esigenza e per consigliarvi il meglio durante il soggiorno.


Le Camere: Il Colony Hotel dispone di 72 camere, accoglienti e silenziose, arredate con grande cura dei particolari.

Ogni camera č dotata di:


servizi privati
aria condizionata
TV
filodiffusione
cassaforte
linea telefonica diretta con l'esterno



Sale Convegni: Il Colony Hotel dispone di due sale convegni, da 90 e 20 posti e una sala riunioni da 10 posti.

Le sale sono attrezzate con impianti di diffusione acustica e proiezione con schermo gigante e TV a circuito chiuso.

Su richiesta possono essere organizzati meeting, servizi di traduzione simultanea e catering.


Fitness: La Sala Fitness, attrezzatissima, č sempre a disposizione di chi non vuole rinunciare all'attivitą sportiva. Le macchine sono garantite dal marchio Technogym.

Internet Tea Room: Presso il nostro Internet Point potete collegarvi alla rete da comode e discrete postazioni in qualsiasi momento della giornata.


Noleggio auto
Troverete un garage privato, ristrutturato, ampio e sicuro, oltre ad un parcheggio riservato, all'aperto, proprio di fronte all'entrata
Bar,
Camere,
Si accettano animali,
Giardino/Parco,
Parcheggio privato,
Telefono in camera,
Bagno con doccia,
Tv Color,
Acc.Disabili,
Acensore,
Palestra,
Servizio Lavanderia,
Cassaforte,
Aria Condizionata,
Sala Conferenze,
Si accetta Carte di Credito,
---
Dove siamo:

---
COLONY HOTEL



Location: The Colony Hotel is located in a highly strategic area of the capital, just a few minutes from the historic centre, close to RAI and to such major sport facilities as Stadio Olimpico, Foro Italico and Acqua Acetosa.

Situated between the elegant Fleming and Vigna Clara neighbourhoods, it is well served by public transport and linked with the rest of the city.

Arriving by car, we are just a few minutes from the A1 motorway, G.R.A exit 6.


Colonial charm and modern comfort, combined with our hospitality, make the Colony Hotel a comfortable and elegant place to stay on your visits to Rome.


Reception: The Reception Staff is at your disposal to meet your every need with the utmost professionalism and to advise you during your stay.


Rooms: The Colony Hotel has 72 quiet, comfortable, and elegantly appointed rooms.

Each bedroom is provided with:


en-suite bathroom
air conditioning
TV
cable radio
safe
direct telephone line



Conference Room: The Colony Hotel has two conference rooms (20 and 90 seats, respectively) and a 10-seat meeting room.

The rooms are provided with sound equipment, wide screen projection and closed circuit TV.

Meetings, catering, and simultaneous translation services are available upon request.


Fitness Room: Our fully equipped Fitness Room is always available to our guests who want to keep fit.
All the apparatus is manufacturer guaranteed Technogym.

Internet Tea Room: At our Internet Point, you can connect to the web from comfortable and discreet stations, any time of day.


Car Rental
The hotel has a large, safe, renovated private garage, as well as an outdoor car-park reserved for hotel guests, right in front of the entrance
Bar,
Rooms,
Animal Accepted,
Garden-Park,
Private Parking,
Phone in room,
Bathroom with shower,
Tv Color,
Acc.Disabili,
Lift,
Palestra,
Laundry,
Safe,
Conditioned air,
Conferences Room,
Credit Card accept,
---
Where we are:

Hotel Colony
Via Monterosi, 18, Roma, RM, Italy
Tel. +39 0636301843
Fax. +39 0636309495
Contact: info@colonyhotel.it
vedi anche: http://www.colonyhotel.it/